Cedar Croft Consulting is a firm believer in forming long-term relationships with our business partners. Sponsoring and attending as well as networking at industry association events is one of the components to our success in developing and maintaining these key relationships.
NYIC/TMA New Jersey Super Networking Party – February 13, Newark, NJ.

NYIC 12th Annual Women in Achievement Awards

– February 5, New York, NY.

2019 TMA Distressed Investing Conference

 – February 6-8, Las Vegas, NV.

TMA Toronto NextGen New Year Social

 – January 24, Toronto.
14th Annual NYIC/AIRA Joint Bankruptcy and Restructuring Event – January 22, NYC.

Empire Club of Canada – Kyle Dubas of Toronto Maple Leafs and Bobby Webster of Toronto Raptors: How Big Data is Changing Professional Sports (conference video)

 – January 21, Toronto.
See Highlights.
TMA Upstate New York Holiday Party & Charity Event – January 10, Rochester, NY.
TMA SoCal 2019 Economic Forecast Event – January 16, Los Angeles, CA.

TMA New York City Casino Night

 – January 17, New York, NY.

2018 TMA NextGen Leadership Conference

,

 

November 29-December 1, 2018, Chicago, IL
Our Toronto manager, Ziggy Krupa, stands with the NextGen Group –
pictured directly in the middle of the group (can you find him?).
CFA New York Golf Outing, July 23, 2018, Larchmont, NY.


L to R: Brad Kastner, MidCap Financial; Michael Sullivan, Second Avenue Capital
Partners; Harris Diamond, Stradley, Ronon, Stevens & Young; Patrick Walsh.

Colorectal Cancer Canada Kick Ass Golf Tournament, July 12, 2018, Aurora, ON.
CFCC Annual Summer BBQ,

July 11

, 2018, Los Angeles, CA

TMA New York Golf/Tennis Outing

, 

June 25, 2018, Armonk, NY

11th Annual Philadelphia Credit & Restructure Summit, June 26, 2018, Philadelphia, PA
– Patrick Walsh panelist on the "Jeopardy" event panel at the event. 
– Cedar Croft Consulting is a Sponsor of "Jeopardy!"

TMA New York – Summer Rooftop Bash

,

June 2018, New York.
TMA New York – Golf/Tennis Outing, June 14, 2018, New York.
NYIC 100th Anniversary Celebration, June 11, 2018, New York.
See Cedar Croft's favorite highlight photos.
Special Assets Management Association 9th Annual Conference,

June 6-8, 2018, Ojai, CA .

TMA Great Lakes Regional Conference, May 24-25, 2018, Avon, OH.
NJCFA/NJTMA Golf and Tennis Outing, May 29, 2018, Orange, NJ.

2018 TMA Southeast Regional Conference, May 30-June 1, 2018, Naples, FL.
Golfing at TMA SE L – Matt Simon, Marquette Business Credit with
Patrick Walsh (C) and R – Michael Beaver, Conway MacKenzie.
Cedar Croft Consulting was also the lanyard sponsor for the
2018 TMA Southeast Regional Conference.
12th Annual Credit & Bankruptcy Symposium, April 26, Mohegan Sun, CT



L to R – Dave ___; Harvey Gross, NYIC; Pat W., Fridolf Hanson, Ares Management NYIC.

TMA Toronto Symposium, April 17, 2018, Toronto, Canada.
CFCC President's Panel Event, April 11, 2018, Los Angeles, CA.
NYIC Joint Factoring Event with IFA,  

March 6, 2018

, NYC.
National Jewish Health Financial Industries Dinner, 

March 1, 2018

, NYC.
Mentor Meet & Greet hosted by the NYIC Future Leaders for Future Leaders, February 2018, NYC.

TMA Distressed Investing Conference

, 

Feb. 7-9, 2018

, Las Vegas, NV.
Women of CFCC Event, 

Feb. 8, 2018

, Santa Monica, CA.
TMA NYC,

Annual Professor Altman Luncheon Conference | Union League Club, January 29, 2018.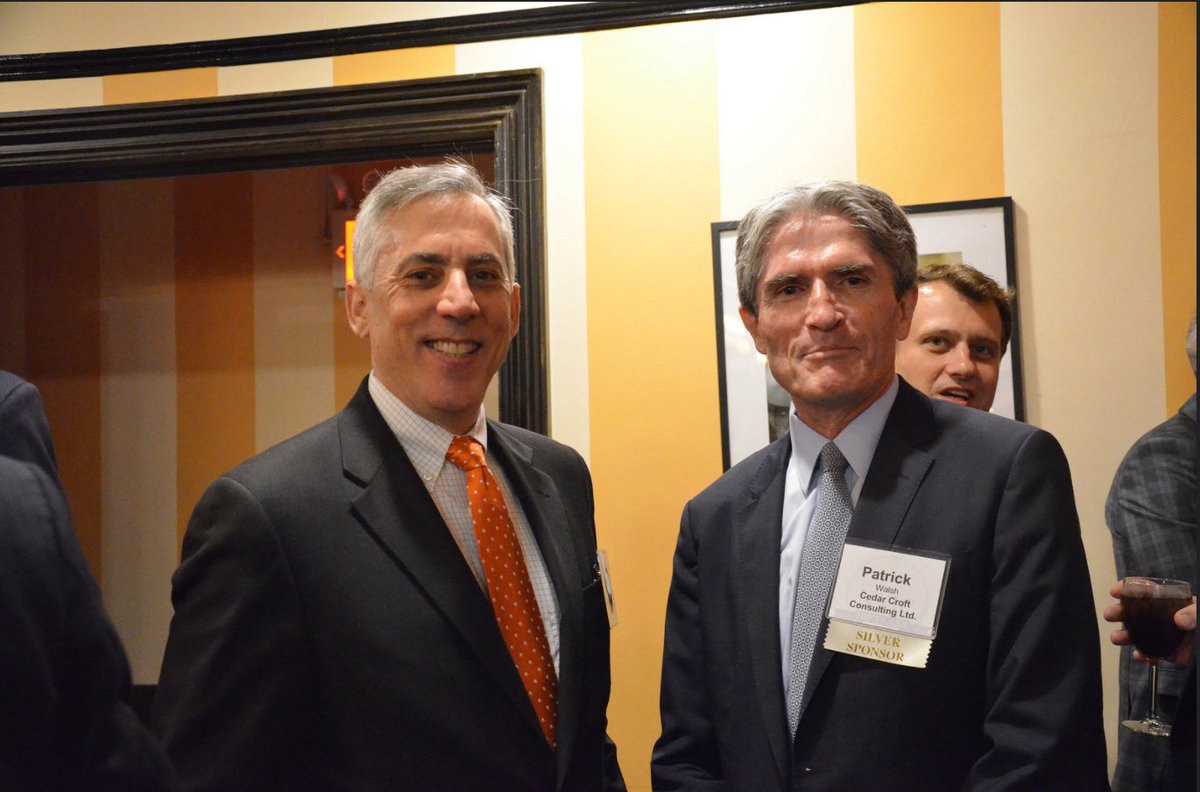 Mark Hahn of Graphic Arts Advisors with Pat Walsh.
Cedar Croft Consulting hosts Huntington Business Credit in Toronto, April 8, 2017. Pittsburgh native, Ron Tassone of Huntington Business Credit visits the Hockey Hall of Fame and attends the Leafs v Penguins hockey game at Air Canada Centre in Toronto. The Maple Leafs defeat the Stanley Cup Champions 5-3 to clinch a playoff spot!
Cedar Croft Consulting Managing Partner, Patrick Walsh attends TMA Northeast Annual Asset-Based Lending Panel, March 2017.
Cedar Croft Consulting attends Commercial Finance Association conference November , 2016.
Cedar Croft Consulting attends Turnaround Management Association annual conference in Lake Buena Vista, Florida, November 2016. Cedar Croft's Michael Appel also sat on a panel at the conference.
Cedar Croft Consulting's

Michael Appel spoke

at

ACG New York's Annual Consumer and Retail Conference on

November 1, 2016

.
Cedar Croft Consulting entered a team to compete in the Ride the Bike Corporate Challenge on October 27, 2016, Mattamy National Cycling Centre in Halton, Ontario Canada. The event raised funds for the Right to Play charitable organization.
Cedar Croft Consulting President and Managing Director, Patrick Walsh attend The Whiskey Business: A Sip, Learn & Networking Event hosted by the TMA New York City Chapter, September 13, 2016.